Wall Painting in Christiania, Copenhagen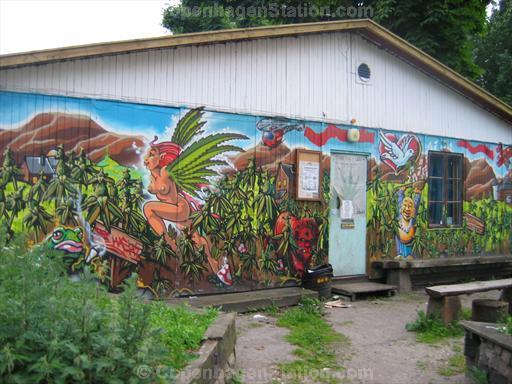 Freetown Christiania in Copenhagen
Freetown Christiania is a highly independent and quite controversial community in Copenhagen, known for it specific and laid back way of life. Christiania operates outside the common structures of Copenhagen and Denmark and is self-sufficient to a great extent. For tourists, it is an interesting place to visit (there are tour guides available in Christiania).
Wall paintings in Christiania
Among the best known features of Christiania are various wall painting and graffiti. The wall on this picture is among the most beautiful. You can see it close to the entrance to Christiania near Christianshavns Vold. Here is another picture of a wall painting in Christiania, demonstrating its attitude towards drugs.
Getting to Christiania
From Copenhagen city centre, the best way of getting to Christiania is by metro. Take the metro line M1 or M2 to Christianshavn Station (the last station before the two lines divide). From Christianshavn Station, walk towards the church with a tall tower (Vor Frelsers Kirke), which is only one block from the main street (Torvedage). Christiania begins one block behind the church.
Hotels close to Christiania
There are not many hotels close to Christiania. You will find a few hotels on the main streets in and around Christianshavn (e.g. Torvegade or Amagerbrogade) – here you can see more details about hotels close to Christiania.
Topics: Christiania, Amagerbrogade, Christiania, Christianshavn Station, Copenhagen Pictures, Torvegade, Vor Frelsers Kirke