Torvegade, View towards Knippelsbro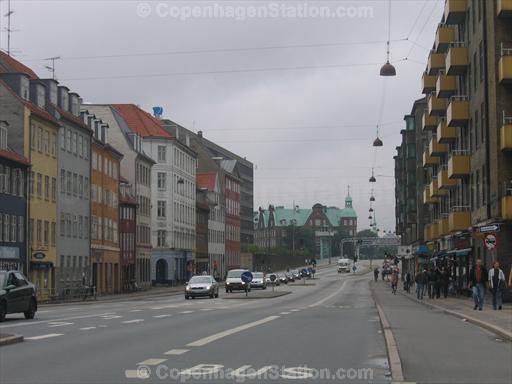 Torvegade Street in Copenhagen
Torvegade is the main street in the district of Christianshavn, between Copenhagen inner city (Indre By) and Amager Island. It goes approximately in the north-south direction and passes through Christianshavns Torv (the district's main square) on the way. The section of Torvegade that you can see on this picture is between Christianshavns Torv and the inner city, on the northern end of Christianshavn.
Copenhagen Knippelsbro Bridge
Christianshavn is connected to Copenhagen Inner City by Knippelsbro, an old bascule bridge (it can rise for bigger ships to pass). Knippelsbro is a true technical relic – it was completed and opened in 1937 and is still in operation. It had four predecessors in the same place (the first, wooden bridge, was built in 1618-1620 and lasted almost 200 years until 1816).
Torvegade and Knippelsbro as important traffic corridor
The street that arrives to Knippelsbro Bridge from the inner city side is Borsgade (Stock Exchange Street); the street that starts on the other side of the bridge is Torvegade, which you can see on the picture. Knippelsbro and the adjacent streets are extremely important for local traffic, as Knippelsbro is one of the only two bridges over the Inner Harbour (the other bridge is the nearby Langebro) and only two ways to get from the city centre to Amager – besides the highway outside the city, which would make the trip many times longer.
Topics: Christianshavn, Amager to centre connection, Borsgade, Christianshavn, Christianshavns Torv, Copenhagen bridges, Copenhagen Pictures, Inner Harbour, Knippelsbro, Langebro, Torvegade