Christianshavns Kanal from Torvegade Bridge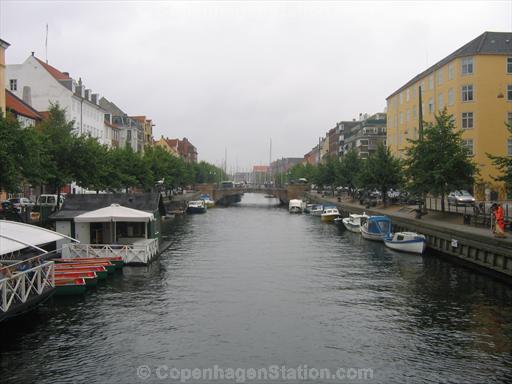 Christianshavns Kanal in Copenhagen
Christianshavns Kanal, as its name suggests, is the main canal running through the district of Christianshavn in Copenhagen. The Kanal is known as a relaxed place with many boats and houseboats. A cruise through Christianshavns Kanal is one of the highlights of Copenhagen canal cruises and sightseeing tours.
Torvegade Street and bridges over Christianshavns Kanal
There are two bridges over Christianshavns Kanal. The bigger and more important bridge is Bornehusbroen, which is part of Torvegade, the main street connecting the Inner City and Amager Island, going through all of Christianshavn on the way. This picture of Christianshavns Kanal was taken from Bornehusbroen, looking to the north-east. You can see the second bridge, Snorrebroen, further on the Kanal.
Getting to Christianshavns Kanal and Torvegade
There are frequent public transport connections to Christianshavns Kanal, Bornehusbroen, and Torvegade from the city centre. The easiest way how to get here is by metro – Christianshavn Metro Station is situated at Christianshavns Torv, the main square in Christianshavn, which starts immediately on the southern side of Bornehusbroen. There are also numerous bus lines going through Christianshavn, as Torvegade is one of the two main connections between the inner city and Amager Island (and Kastrup Airport).
Topics: Christianshavn, Boats in Copenhagen, Bornehusbroen, Christianshavn pictures, Christianshavn Station, Christianshavns Kanal, Christianshavns Torv, Copenhagen Pictures, Houseboats in Copenhagen, Pictures of Copenhagen canals, Snorrebroen, Torvegade