Copenhagen City Hall Building at Radhuspladsen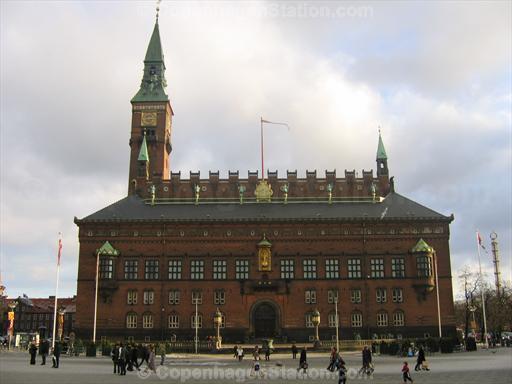 Copenhagen City Hall and its square
The building of Copenhagen City Hall, or Rådhus in Danish, is one of Copenhagen's landmarks, visited and photographed by thousands of tourists every day. Not only that, Copenhagen's Rådhus also has its own square, the Rådhuspladsen (City Hall Square).
Rådhuspladsen in Copenhagen
Rådhuspladsen is naturally one of the busiest squares in Copenhagen, frequented by both locals and tourists. For tourists it is a strategic intersection of several of Copenhagen's prime attractions. The City Hall building, which dominates the square, has the entrance to Tivoli on the right side, and one end of Strøget (the famous and very long shopping street) on the left. There is also the statue of Hans Christian Andersen sitting just next to the Rådhus.
Here you can see more information about the best hotel locations near Radhuspladsen.
Rådhuspladsen as public transport junction
For locals, Rådhuspladsen is mainly a public transport hub. In both day and night, there are frequent buses to all possible corners of Copenhagen. The main train station, Hovedbanegården, is just around the corner (behind Tivoli). And of course, lots of bicycles everywhere.
Topics: Radhuspladsen, Copenhagen City Hall, Copenhagen Pictures, Hans Christian Andersen, Stroget shopping street, Tivoli in Copenhagen