Christiania Against Hard Drugs Painted Wall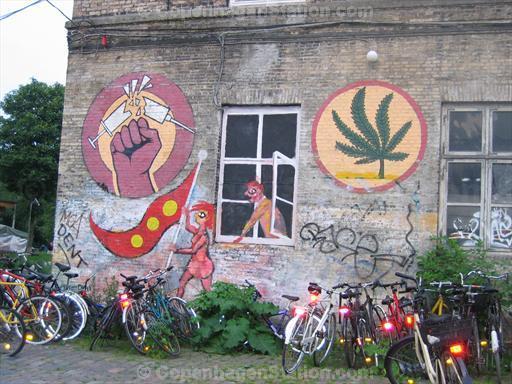 Christiania and drugs
This picture shows the typical painting on the wall of a house in Christiania, the controversial independent community in Copenhagen. While the people of Christiania are strongly against hard rugs, they are much more tolerant (or even welcoming) to the use of soft durgs. Nevertheless, things have changed in the recent years after Copenhagen police made numerous drug raids in Christiania and arrested dozens of people. The whole future of Christiania is now questionable.
Visiting Christiania
For visitors (with no interest in drugs of any kind), Christiania is interesting mainly for its looks and atmosphere, which feels like you have travelled at least several decades back in time. There are no cars, lots of simple old houses, and lots of nature and water. If you come with respect and open mind, and kindly refuse an occasional drug offer (not probable, but can happen), you will most likely enjoy the experience.
Christiania location in Copenhagen
Christiania is located in the southern part of Copenhagen's district of Christianshavn – to the east from Torvegade (the main street in Christianshavn), separated by water from Amager Island. The metro station closest to Christiania is Christianshavn.
Accommodation near Christiania
Here you can see basic information about hotels near Christiania and Christianshavn in Copenhagen.
Topics: Christiania, Christiania, Christiania and drugs, Christianshavn Station, Christianshavns Vold, Copenhagen Pictures, Torvegade