Bird Boxes on a House near Lergravsparken, Copenhagen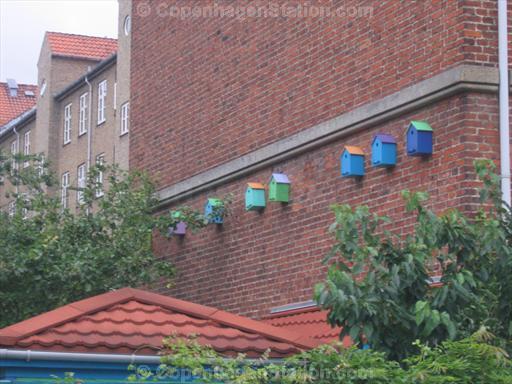 The house with bird boxes near Lergravsparken
This picture was taken near Lergravsparken Metro Station on Amager Island in the south-eastern part of Copenhagen. You can see these coloured bird boxes when walking from Lergravsparken to the west (on Lergravsvej Street).
Lergravsparken
Lergravsparken is a park in north-eastern part of Amager. The streets which form the borders of Lergravsparken are Ostrigsgade, Oresundsvej, Lergravsvej, and Sundparken. Lergravsparken Metro Station is situated at the north-western corner of Lergravsparken (park), at the corner of Ostrigsgade and Lergravsvej. The station used to be the terminus of metro line M2 before the metro was extended to Copenhagen Airport in 2007.
Lergravsvej
Lergravsvej is a relatively long, but not very busy street that passes along the northern edge of Lergravsparken. It starts several blocks east of Lergravsparken and ends as a pedestrian-only passage to Moselgade and Wittenberggade in the west.
Topics: Amager Island, Allehelgens Kirke (Lergravsparken), Copenhagen Pictures, Lergravsparken, Lergravsparken Metro Station, Lergravsvej, Moselgade, Ostrigsgade, Ungarnsgade, Wittenberggade